QRP is not accepting any new orders at this time due to extremely high growth in demand for vinyl records. We are currently working to expand our capacity to transition back to accepting new orders as soon as possible.
---
"…all I can say is THIS IS INCREDIBLE!!!!!! The sonics are spectacular and the pressing quality is as good as has ever been pressed in my opinion. The backgrounds are dead, black, silent the way Japanese pressings used to come on JVC 'Supervinyl!' and believe me it doesn't get any better than that, though this may even be richer, darker and blacker." Music = 9/11; Sound = 11/11 – Michael Fremer, MusicAngle.com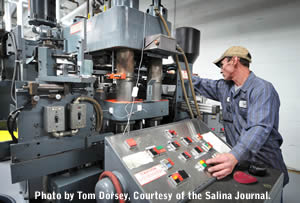 We put a lot of thought into how best to name our new pressing plant, but in the end the decision was to side with a simple, declarative statement: Quality Record Pressings. That's it. Our entire focus is towards the goal of pressing the finest records the world has ever known.
It's been a long time since anyone has actually manufactured a new record press. But we've done the next-best thing by taking three of the best brands ever made - SMT, Toolex Alpha and Finebilt - and rebuilding them equipped with modifications that have never before been tried in the record pressing industry.
Read more...
What Sets QRP apart?
The Very First Title Pressed at Quality Record Pressings Is…
Cat Stevens' Tea for the Tillerman