The Very First Title Pressed at Quality Record Pressings Is…
Cat Stevens' Tea for the Tillerman
When word got out that we were beginning a pressing plant, customers began to call with questions. And the most common and full-of-anticipation question was inevitably: What will be the first title that you press? Well, we couldn't possibly imagine hitting a bigger home run than to open Quality Record Pressings (QRP) with one of the all-time most classic audiophile records, Cat Stevens' Tea for the Tillerman from 1970.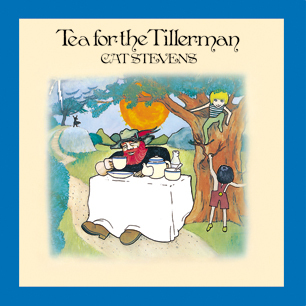 There are so many things perfect about this release. First and foremost, it's a masterpiece of a record. It's that rare record that couples breathtaking sound with hit after hit after hit. In fact, to list the hits would be to list the entire song list. We couldn't pick a better vehicle for which to show off what we're so confident will be the highest quality records ever pressed.
But here's something else that's cool: We scored the absolute original analog masters, and the tapes were in impeccable condition. It took an unbelievable amount of digging and research – and luck – to get this project done to the standards of Analogue Productions. But, wow, was it ever worth it! The tapes were last used in December 1999 when Ted Jensen at Sterling, along with producer Paul Samwell-Smith, remastered the Cat Stevens catalog for CD.
In 1970, Lee Hulko at Sterling Sound cut Tea For The Tillerman for A&M Records in the U.S. and Island Records in the UK using a Telefunken M10 tape machine and a Neumann VMS 66 lathe with a Neumann SX68 cutterhead. Hulko started Sterling in 1968 and was its original mastering engineer. He's considered among the first engineers to advance mastering from just transferring music from tape to lacquer to an art where attention is paid to all the details that result in better sound. We actually found Hulko's original mastering notes from more than 40 years ago. It's incredible, but Sterling still has all of their notes filed away.
So, it was originally cut at Sterling – as were all of the early original Cat Stevens albums – and the tapes were last used at Sterling. How appropriate then that we should go back to Sterling for this monumental reissue. Using the original tapes, George Marino handled the mastering this time. He used an Ampex ATR-102 tape machine, another significant point of interest. While Ampex has long been revered for their sound, they had never made a preview version so that a mastering engineer could cut a lacquer from an Ampex machine. Mike Spitz at ATR Services made a unique preview modification for Sterling so that they could cut this record using an Ampex. Marino then used a Neumann VMS 80 lathe with a Neumann SX 74 cutterhead.
"I think we've gotten something quite a bit better than what was originally issued," Marino says. "I think this version is much more representative of what was on the tape. And that's not a criticism of what was originally done."
Marino points out that since the original issue, there have been advancements in cutting lathe technology that make the improvements of this reissue possible.
"You didn't have the same number of options that you have in the new Neumann electronics," Marino says. "With the new one, they give you more variations to work with. Let's say there's a nice kind of present sounding acoustic guitar on the left channel and then all of the sudden there's a drum peak with cymbal crashes and stuff and that stuff happens to be on the left channel. Being the vocal is down the center, you can drive the high frequency limiter from the right channel. So you can set a threshold on the right channel and grab the vocal without wiping out some of the musical peaks on the left channel. This is what I talk about when I say that we have technical advantages that they didn't have."
Marino also chose to use a wide-track stereo head for this project, which he said allows for better signal-to-noise than the normal stereo head.
Marino says that he is very pleased with the results.
"A great record. A classic," he says. "And those tapes were in excellent, excellent condition. Musically, I think we've got something that sounds richer and more natural. It sounds more correct. I had to do very, very little to the tape regarding EQ processing or anything."
To package this reissue, we've decided to do a facsimile of the original British Island gatefold jacket rather than the non-gatefold U.S. version. This British jacket also has a textured paper stock on the inside and is glossy on the outside. Additionally, we're using the original pink Island label.
So there you have it. QRP is off and pressing in a big, big way! Finally, we're ready to unveil the innovations in record pressing that we've been working on for more than a year. Among those innovations are the installations of microprocessors on the presses so that all of the presses functions are performed with absolute precision. For example, we've developed a dye with an imbedded temperature sensor that we can use to cycle the presses. Rather than having the presses close and open based on time – as it's been to date – these presses will close and open based on temperature, the far more accurate indicator of when the record is ready. We also have a plating department in QRP, run by the best plating man in the business, Gary Salstrom.