We put a lot of thought into how best to name our pressing plant, but in the end the decision was to side with a simple, declarative statement: Quality Record Pressings. That's it. Our entire focus is towards the goal of pressing the finest records the world has ever known.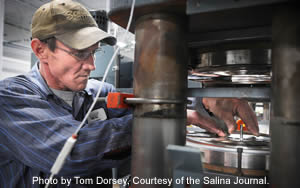 We've improved the standard for vinyl pressing machines and rebuilt our presses equipped with the best and latest technology in the record pressing industry.

Those innovations include adding microprocessors to the presses. Microprocessors allow both the operator and the engineer a level of control capability and feedback simply unavailable with manual valves and control systems. Second by second, the press operator can monitor and maintain production standards and press systems. The engineer can spot and correct variations as they occur.

In the past, presses closed and opened based on time. That time was set according to what the press engineer predicted would be the stamper's temperature. We've now developed a die with an imbedded temperature sensor so that the presses at QRP will close and open precisely when the temperature is correct. Inevitably, a plant's support water temperatures, cooling water temperatures and steam pressures will fluctuate throughout the day. By setting the presses to cycle by temperature, we can correct for all of those variations. It means a consistent sweet spot.

We've also installed a unique double steam valve system that reduces die temperature cycle time and provides a finely tuned level of temperature control so that records are produced without the temperature variations that result in record inconsistency.

And we've brought all of the extruders back to their original specifications, again to control the temperature of the vinyl. The most common errors we all hear in defective records today has to do with overheated vinyl.

But just as you can't have an excellent finished LP without an error-free pressing, you also can't produce great records without flawless plating. Our chief plating technician, Stan Bishop, is a master of his craft and oversees our state-of-the-art plating department. Plating can affect everything from pre-echo and high-end loss to record profile and warping. Getting it right is essential.

This is but a brief synopsis of what sets QRP apart from the competition. The proof, of course, is in the product. We're sure you'll hear and see the difference.

Quality Record Pressings. As the old cliché goes, the name says it all.